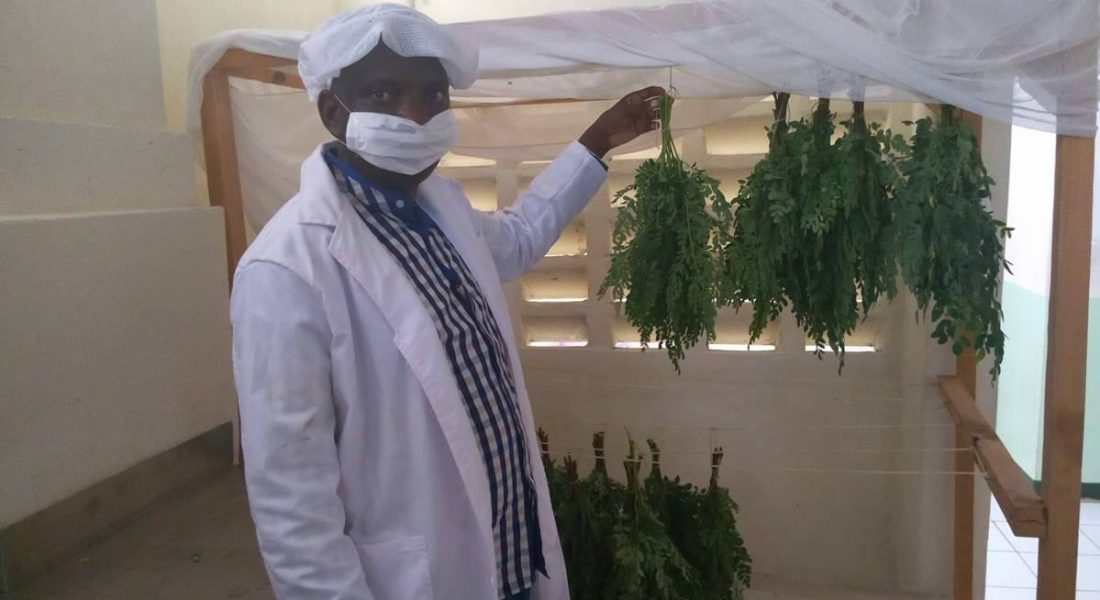 Brother Moses Updates After Returning from his 2,200 Mile Intra-Kenya Moringa Trip
Praise the lord,
I am fine and glad to back after travelling for more than 3500 kms.I took a total of 72 hours sitting on bus travelling. My trip was of great impact for me and for other brothers. We learned and increased our knowledge in Moringa farming and preparation. Dear brethren, our first stop was in Malindi after sitting on a bus for 23 hours. In Malindi, we met a man called Papu Haroon who was waiting for us. After introduction, he handed us over to his manager who trained us for about 2 hours. We learned in depth on planting, cultivation, harvesting, processing and storage of moringa. He taught us about moringa farming for leaf powder and farming for seed production. We got real knowledge and I can say they are experts. This is just what we learned:
After land preparation(tilling), the seeds are soaked and kept moist until they begin germinating, then, they they are put in sockets or directly into the farm. The spacing for leave production is 1ft by 1ft apart. When they grow to about 1 meter in height, its pruned to allow more branches to shoot. In good soil, one plants is able to shoot at least 4 branches, then, those branches will also do the same and mane more branches. This ensures they do grow higher than arm reach, they grow horizontally. In good soil, the initial harvesting is done after 2 to three months, then, done on monthly basis.
After harvesting, the leaves are not to be dried in the sun but are dried naturally under shade or in a house for about 5 to 7 days till they are completely dried. After drying, they are ground by special machine into moringa flour. The flour is then stored in clean dry place away from direct light.
For seed production, the spacing is 3 meters apart. We were shown a few farms that prove that 3 meters apart is OK because they Moringa tree grows big. The space can be used to do intercropping to, this is maximizing the land use. Just like the leaf one, it's also pruned at about 1 1/2 meters to allow more shoots. The seed harvesting is easier to manage as it does not require much attention.
After we were done with learning, we travelled back to Mombasa and reached there at about midnight and rested for few hours. We were then on our next bus and travelled for 9 hours to Kimana and found brother "George" (Mr.Wonderful) gladly waiting for us. We rested for the night then he took us to his farm that has fruit trees and Moringa. We liked the way he handled us because he allowed us harvest seeds ourselves as we learned. After blessing him,we were on the next bus for another 5 hours to Nairobi.
In Nairobi, we went straight to our bus stop and brother Alex travelled another 9 hours back home. Brother Alex joined me for training, it was a blessing. I remained in Nairobi feeling unwell but managed to have some rest and Sunday morning joined brother Joseph in fellowship. I delivered him 15 kgs of Moringa to minister to the Kibera Slum. It was great ministering in that place. We were all blessed and went back to rest.
I spent my monday seeking some treatment and resting then Tuesday took a bus to Moyale. After about 13 hours, I arrived in Moyale and found brothers William and Joshua waiting for me. After few hours of resting, I trained and delivered the knowledge I learned to them. I was really not feeling good and could not stay any longer in Moyale. I liked the weather in Moyale because it was raining and the soils are so fertile brother brother. I really thank God because of what He has done to them. They now have a very clean and safe water from the blessed borehole they received. They had a well drilled by machine fitted with solar to supply the village. William thanked me beacause that's the knowledge I gave him when I was there last. The water well will make then greatly sustainable. The first time they have clean water since the beginning of time.
I travelled and got home and after medical treatment and I am almost fully recovered. I am glad because we transplanted our moringa to the field. We have decided that we will be planting some for seeds and some for leaf production.The leaf production is for our own consumption and seed for commercial purposes. We learned that there is huge demand for seeds vs flour. We pray and trust we will be able to sell seeds like one time in a year for His glory.
I would like to thank you and the GMFC supporters very much because of the Moringa flour that was bought for us. We are all benefiting, especially the families in church that are sickly. Moringa is doing wonders to the orphans and our school, they are not sickly at all! Their health has greatly improved and I believe in the long run, they will be fully healthy. I thank you so much together with the other brethren who are sacrificing to support us. May the lord bless you all.
Brother, I learned a lot and would be willing to share more. If you have any questions, please ask, I will be glad to answer.
God bless you. -Moses