Youth Bible Study – Saver Dhaka, Bangladesh
We are thankful! We are happy that we completed our program bible study on 29th November 13 successfully. We giving thanks to our Heavenly Lord and our partners who prayed and support us for this program. It was really a miracle and blessed. I believe our Lord was with us. I believe we will touch many through prayer and obedience.
Total attendance: 40 youths.
We started our worship with Local Pastor Ajit Biswas (UCJC). We sang songs and prayed for our Program. We thanked to God for our partners.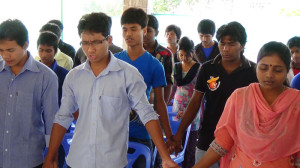 We prayed to God and asked HIM for our all partner's and well-wisher's to be richly blessed. We prayed for them to God that He keep them well and blessed and give them all success in their life.  We introduced all the youth to each other and gave them some snacks.
Our guest Speaker, Pastor Ajit Biswas, preached about many subjects through Holy Bible. He highlighted some Bible verses for all youths to follow. The youth were in 3 groups and discussions about the subjects were in a sermon in the lunch break and they share to all their teachings.
We fed them vegetable rice, chicken curry, egg fry, and mineral water.  After Lunch, Pastor Hilton Rami Biswas taught the youth about the subjects in a sermon.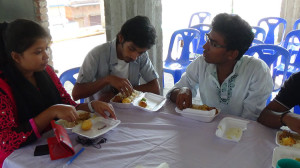 And last, we thanked God and all the parents who attend the program and thanked all the volunteers who helped the program become a great success. We prayed and thanked God for the program. We closed the program with prayer with Pastor Ajit Biswas.  Amen
Our Program Budget is below, you can see your donations go a long way.
Breakfast for 40 people: 50 BDT per person: 2000 BDT ( approx $25)
Lunch for 40 people: 140 BDT per person: 5600 BDT ( approx $71)
Decoration: 1000 BDT (approx $13)
Traveling for 3 person: 1000 BDT: (approx $13)
Pastor Honoree 1 Pastor 1500BDT : (approx $19)
Total approx $141.
Great thanks to our Partner Global Mission for Children for their support for us. God Bless them.
In Christ,
Pastor Hilton Rami Biswas