List of Salaries and Stewardship of Leading "Humanitarian" Organizations aka MONEY CHANGERS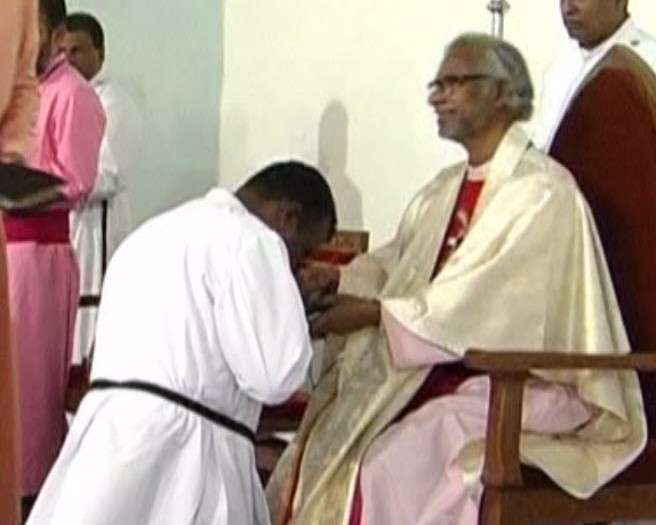 List of Salaries and Stewardship of Leading "Humanitarian" Organizations aka MONEY CHANGERS and Wolves in Sheep's Clothing! Four "Christian" and two secular.
Gospel for Asia
Founded by KP Yohannan, we have never seen an organization start so good and fall so hard! He was a humble servant for decades(from what we can see from afar) and now is is a self-declared "pope" of the "believers church" where people kiss his rings, etc. Talk about Apostasy! That is just the tip of the iceberg! A headquarters in TX just built for over $50,000,000 and that money came from donors and the "believers church". FILTHY & WICKED! Hundreds of millions are now unaccounted for and more thievery is being uncovered. Yet another "christian" organization serving mammon!
CLICK HER FOR THE ARTICLE ABOUT MONEY LAUNDERING IN BACKPACKS! 1 Thessalonians 5:22  Abstain from all appearance of evil. 
 CLICK HERE FOR CHARITY NAVIGATOR WARNING! – CLICK HERE FOR ARTICLE EXPLAINING LAWSUIT FOR HUNDREDS OF MILLIONS SQUANDERED!!!
A previously confidential letter from the Evangelical Council for Financial Accountability (ECFA) to GFA, published last week by blogger Warren Throckmorton, shows that GFA failed miserably to live up to the promise of giving 100% to mission work!!!
From "Christianity Today".
The ECFA letter (dated September 2, 2015) was the result of a four-month investigation into GFA's finances. Soon after the report was issued, ECFA expelled GFA from its membership.
At the time, ECFA said GFA had violated five of its seven core standards. But details of the ECFA investigation were not available to the public. That changed last week when former GFA board member Gayle Erwin released the ECFA's letter and other documents to Throckmorton.
The ECFA investigation found that GFA leaders misled donors and board members about the state of the ministry's finances. GFA leaders also tried to withhold details about finances from ECFA.
Among other findings:
GFA delayed sending nearly $50 million in donations to its overseas partners in 2014. The funds were not transferred overseas until the end of the year. GFA also delayed sending $28 million in donations overseas in 2015.
GFA failed to keep track of how it spends designated funds for specific projects.
GFA's leader, K. P. Yohannan, repeatedly withheld information about the ministry's finances from its board of directors.
$29 million dollars in donations was moved to the Hong Kong bank account of GFA's India affiliate without disclosing that transfer to the Indian government. GFA also hid financial transactions from both the Indian government and US officials.
GFA failed to exercise control over millions of dollars in donations sent to its overseas affiliates.
The ECFA report also indicates that GFA was less than cooperative with the inquiry.
"Certain information provided to ECFA by GFA that was crucial to our review was, at least initially, inaccurate," wrote John C. Van Drunen, ECFA's executive vice president, in September 2015.
ECFA would not comment to CT for this story.
A key moment in the investigation came in June 2015.
ECFA asked GFA about the cash reserves held by its overseas affiliates. At first, GFA claimed those affiliates had $7 million in reserves. When ECFA pressed for more details, GFA revealed that its affiliates had $259 million on hand in March 2014, and $186 million as of June 2015."
---
World Vision (professing to be Christian but they are wolves)
Look at their FRUIT! The Board of Directors made a decision on March 24, 2014 to ALLOW employees in a same-sex "marriage". Blasphemous!!! When their donors wrote in with disgust they rescinded their decision but we know their FRUIT! It's ROTTEN! Click here for the truth!
ON TOP OF THAT, right on their website they clearly bow down to the world and do not even EVANGELIZE (proselytize)!!! WHAT?!? Click here to see it on their site!
Rich Sterns, the CEO states: "In accordance with the Red Cross Code of Conduct, we

never proselytize

or require a profession of faith in exchange for services." "Our hope is to reflect the unconditional and transformational love of Jesus in 'culturally appropriate ways'.
They have signed the wicked Code of Conduct for the International Red Cross and Red Crescent Movement and NGOs in Disaster Relief. 

Click here to read the interview with the CEO. Look at the sixth question, bowing down to the WORLD.

Total revenue ONE BILLION

Salaries $100 MILLION+

Fundraising $15 MILLION+

Total $115 MILLION. YES, that's $115 MILLION per year!

Executive salaries:

13 "executives" make over $150,000 each+++

Click here for the IRS return listing these facts!

So, you need 3,833,333 child sponsors paying $30 per month before a DIME goes to a child! Shameful!
---
Compassion International (also professes to be Christian but their FRUIT says otherwise in a big way!)
Total revenue $700 MILLION

Salaries $122 MILLION+

Total $122 MILLION for salary!*

CEO Salary $420,000(partial year)!!!


10 "executives" making over $150,000 per year each! Click here to view the tax return.

So, you need 4,066,666 child sponsors paying $30 per month before a DIME goes to the children!

They yoke with heretical CCM (contemporary "christian" artists", click here to view the "featured artists".

Click here for the entire list.

Compassion yokes with and promotes catholic mystics like Roma Downey and Mark Burnette, click here for more.

They use corruptible versions of the bible and celebrate pagan holidays like x-mass! Click here for more.

They yoke with the great whore, the catholic cult, click here for more.
---
Child Fund (Used to be called "Christian Children's Fund" until 2009, then they changed their name to Child Fund. The new CEO stated "CCF had not , yet these deceivers kept that name for decades!!! See entire article by clicking here.)
Total revenue $236 MILLION

Salaries $36 MILLION

Fundraising $5 MILLION

Total $41 MILLION PER YEAR TO SALARY AND FUNDRAISING!!!*

CEO Salary $358,000

Click here to view the tax return.

3 other "executives" all making over $250,000 EACH!
So, you need 1,464,285 child sponsors giving $28 per month just to pay salary and fundraising costs before a child get's a DIME!

---
Children International (secular)

Executive Salaries

$11 MILLION Salaries!

Other officers making hundreds of thousands EACH!

$34 MILLION fundraising costs!

$45 MILLION TOTAL for salary and fundraising!*
So, you need 1,800,000 child sponsors giving $25 per month before a child get's a DIME in help.
---
Food for the Hungry
Total revenue(2015) $85,703,356 MILLION

Salaries/Administrative Costs $6,008,904 MILLION (7.2%)

Fundraising $11,087,076 MILLION (12.5%)

Total of $16,000,000++ for just Admin and Fundraising

They have signed the wicked Code of Conduct for the International Red Cross and Red Crescent Movement and NGOs in Disaster Relief. 

Aid will not be used to further a particular political or religious standpoint.
The humanitarian imperative comes first.

CEO Salary $202,465

Director Salary $194,047

Total of just 10 executive's salary YEARLY $1,400,000+ 

So, you need 457,142 child sponsors giving $35 per month before a child get's a DIME in help from Food for the Hungry!

---
That totals 12,078,568 child sponsors needed to pay just the salaries/admin and fundraising costs for just 6 organizations before a child/mission field receives a dime!!!
Can we truly give to these organizations?? Now, Jesus talked about money and how we are to take care of the poor more than heaven and hell combined during His brief ministry here on earth. You don't have to go any further than Matthew 25 (the entire chapter) to witness some of these commands. We also know 80% of the world lives on less than $10 per day, 50% on less than $2.50 and over 1 BILLION people live on less than $1.25 PER DAY! You are most likely RICHER than 80% of the world. If you make $25,000 per year, you are in the wealthiest 8.1% in the world. There are 6,064,765,765 (more than 6.0 billion) people less wealthy than you. You are 32 times wealthier than a billion people. (A billion people earn less than $762 a year).
Are you giving to the moneychangers above? If you are, I pray you click on the links and look at the numbers posted. These were not made up, they are all true. I founded GMFC for this reason. 100% goes directly to the mission fields. Not a penny is paid in salary, rent, fundraising, etc. We fund it personally from our businesses. We preach the TRUE gospel of Jesus, repentance and holiness. Our focus is saving souls and James 1:27, the orphan and widow. Would you join us?
There is a TRUE Christian alternative and that is GMFC.
www.globalmissionforchildren.org
For Jesus-
Jimmy Miller
Founder/Volunteer – GMFC