Need 28 Days Sponsored to Broadcast to MILLIONS in Mexico!
A few weeks ago we met and incredible man of God, 85 year old Wayne Searfoss. We decided to partner with him on what will be one of the largest Christian outreaches known to man due to it's far-reaching impact! Brother Wayne, an open-air preacher for 68 years and foreign missionary from the US to Mexico has successfully constructed an AM radio tower in Central Mexico! All is in place to start to broadcast the true message of Jesus! He will be broadcasting to thousands of villages and towns and millions will hear the gospel. This is one of the last catholic strongholds on earth as they keep the truth out of their towns, cities and villages as one would literally get thrown out! Well now, thanks to obedient brothers and sisters,  it will be broadcast over the airwaves and they will not be able to stop it. Wayne knows he may be martyred for this but he has counted the cost!
The entire system including the towers, antenna, etc has been funded and is up! Now just the fine-tuning and the cost of electricity to run it needs to be secured. All we need is to fund the station to go live is $38 per day. We have 2 saints that have already partnered so we have 28 days we need sponsored. Click below to join us to reach millions of lost souls.
God bless you!
CLICK PICTURE BELOW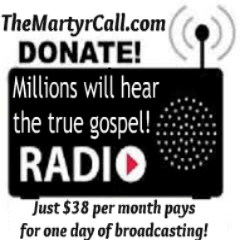 LATEST UPDATE