The Kibera Slum Church is Built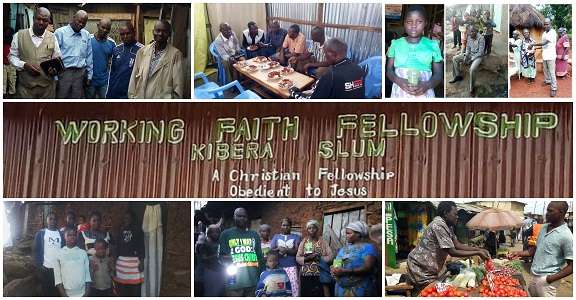 We at GMFC have decided to name our local fellowships (churches), so, we came up with "Working Faith Fellowship". All our mission fields in Kenya & Bangladesh will use this name so we are in unity. Enjoy the updates directly from the Kibera Slum (Nairobi) mission field below.
December 1st, 2017 Today I was meeting area village leaders for permission to construct a church. By God's grace we got approved. They're so corrupt here in Kenya & they charge alot for it. It's good for starting tomorrow 12/2/2017. We're going to build it brethren for His glory!
December 2nd, 2017  Good Sunday morning & glory to Jesus brethren. A peaceful Kibera slum today. Fellowship was good after all the political chaos and rioting and all of the brethren are safe. After service we went to see our church structure coming together. It's a blessed occasion, much thanks to the GMFC brethren. Every church member is very happy for their own church house. Prayers have been answered as construction is so fruitful, tomorrow, we're going to put the upper structure together. Glory to Jesus.
December 4th, 2017 Very busy Monday once again. The brethren worked hard and the structure is almost finished. Tomorrow, we're going to cover it with iron sheets and roofing, praying for that. I thank God brother a very big church house is coming up here , may God bless you and GMFC. Amen.
December 11th, 2017 Brethren, we've a lot to do preaching the true gospel. I thank you for discipling me in the true, real word of God. Many were blessed when I was preaching to them at the Siaya Village Annual convention. It was well attended and many repented to Jesus, all glory to Jesus the Lord. I made a temporary toilet for the convention as you will see in the pictures.
December 16th, 2017 A very busy & blessed day with God's power. Finishing the church sometimes taking a lot of time, but we managed it. Tonight we're in a intercessory prayer, tomorrow morning, Sunday, we're ready for the first Sunday service in a new structure. God bless GMFC and it's partners. New child is born in Kibera Slum Nairobi to glorify Jesus. Working faith fellowship (W F F ).
December 21st 2017 I traveled to our Siaya mission field and your BIG hello was received greatly and welcomed in Siaya. All the brethren(widows) are well. Receive their greetings in Jesus name. Service was great and I passed out the weekly blessing of food and support. Thank so much for supporting these precious souls.
December 24th, 2017 Praise Jesus brethren, good Sunday morning. Today we attended the fellowship and kibera slum is peaceful. The only issue is many people are mad and stressed because of Xmas shopping and additional sinning. This is what happens when the world ccelebrates a pagan day that has nothing to do with Jesus. People are starving to death right here in Kenya yet the world spends trillions collectively on this day on useless things that will pass away with this world. I thank God for the flock He gave me, they are now free from Xmas traditions . Glory to Jesus.
December 28th, 2017 Glory to GOD! We received 7,000, 48 page gospel tracts today GMFC ordered for us. Praying for this booklets to reach many in Kibera Slum, Nairobi city and Siaya Western, Kenya mission fields. Praying for His word to go forth as we minister the gospel to the lost. We received them in 3 languages, English, Swahili & Luo, my native tongue spoken in Siaya. Very simple and clear language. Word of God for Soul saving. We also received the 28kg package of the superfood Moringa which is helping provide nutrition to the impoverished here in the Kibera Slum. What a blessing.