Widows Orphans & Jesus in Kibera & Siaya Kenya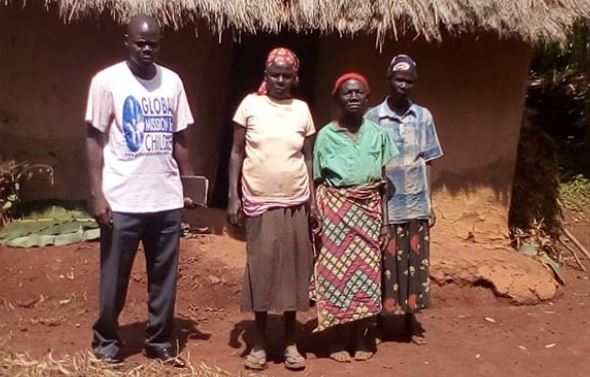 June 11th, 2017 brother Jospeh updates:

Glory to Jesus! I thank you all so much. I and Kibera church appreciate your hard work through Global Mission for Children. No matter the consequences we're facing in Kibera, we're Happy because of GMFC support as nobody will die of hunger. Our children and much healthier and going to school. God bless you all! I personally want to thank teacher brother Aaron for the love and kind heart for supporting us spiritually and helping our needy children. May God bless you all.

A blessed Sunday in our repaired church hut. Topic of the day, "The Righteous", Psalms 1:5-6, Isaiah 3:10-11, Proverbs. 3:32-33 & James 5:16. After along journey from Kitale, Bungoma and Siaya, I'm back in Kibera Nairobi. Church was good even though we lost one of our children who passed at 10 months. We have a BIG number of young ones and much prayers is needed, physical and spiritual.

The nutrient rich moringa oliferia God has given us is an incredible health food, especially here in Kenya where malnutrition is the norm! After church service, we're served moringa tea,a ll for His glory Jesus. My sitting room I used as kitchen for the love of needy.
June 15th, 2017 brother Jospeh updates:

Praise Lord brother, I thank Lord for the assignments he has given us. Today 6/15/2017, I'm in the village Evangelizing to much needy widows. Brother, the need is too high here, I'm praying for it. God bless you Amen.
June 18th, 2017 brother Joseph updates:

Praise Jesus brother, a very blessed Sunday fellowship. We're picking up attendance & we're so congested. God is adding people in our church weekly. The message was "SALVATION ", JOHN 3:16 -17, ACT'S 4:10-12 & EPHESIANS 2:24-26 . I thank God because many new salvations are happening and they like the teachings.

We are so happy brother for your full support and GMFC mission in Kibera slum,our kids are so thankful because of physical and spiritual support, may God bless you brother all for the glory of our Lord Jesus. Amen.
WORSHIP VIDEO FROM THE KIBERA SLUMS CHURCH
VIDEO OF PASTOR JOSEPH OTIENO PREACHING AT THE KIBERA SLUM CHURCH